[Registration Closed] The 121st HGPI Seminar – Addressing AMR as a Global Health Challenge: Integrating Perspectives from LMICs and HICs for Sustainable Access to Antibiotics (October 30, 2023)
>

>

>

[Registration Closed] The 121st HGPI Seminar – Addressing AMR as a Global Health Challenge: Integrating Perspectives from LMICs and HICs for Sustainable Access to Antibiotics (October 30, 2023)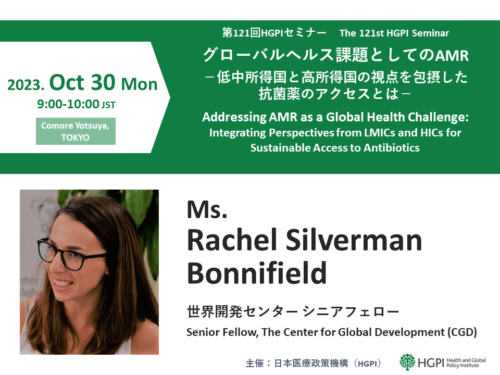 Antibiotics play a critical role in modern medicine, serving as a cornerstone for clinical management of infectious diseases, cancer, childbirth and more. However, the rise of antimicrobial resistance (AMR) poses a significant threat to global health in wealthy and poorer countries alike. Each year, an estimated 1.27 million deaths are attributable to antibiotic resistance—well surpassing mortality from malaria or HIV/AIDS. Low- and middle-income countries (LMICs) bear the brunt of this burden, accounting for nearly 90 percent of the direct death toll and over 99.5 percent of AMR–related deaths among children under five. Simultaneously, they bear an enormous toll from untreated infectious diseases, with an urgent need to increase access to antibiotics where they are clinically indicated.
Effectively addressing AMR as a global health crisis thus requires collaboration that crosses geographical, economic, industrial, and sectoral borders. Global agreement and cooperation are needed to restore and sustain a robust pipeline of new antibiotic candidates; responsibly steward the efficacy of existing drugs; and ensure that all people, including those in LMICs, can access lifesaving antibiotics when needed and clinically appropriate, both now and in the future. Given this complex and politically sensitive task, a "Grand Bargain" is needed to balance the interests of wealthy countries, who prioritize antibiotic stewardship and innovation, with poorer countries' urgent need for increased access to address the ongoing burden of antibiotic-treatable disease.
For the upcoming HGPI Seminar, we will host Ms. Rachel Silverman Bonnifield, who serves as a Senior Fellow at the Center for Global Development, a US think tank. In 2024, the United Nations General Assembly (UNGA) will reconvene for a second High Level Meeting on AMR (following the first in 2016), providing a platform for global discussion and negotiation. Looking ahead to the forthcoming UN High Level Meeting, this seminar will explore the parameters of a "Grand Bargain" for sustainable antibiotic access that could help address this crisis by balancing the interests of wealthy countries, LMICs, and industry. It will also highlight the high potential return on investment from G7 investments in new antibiotics, and consider policy solutions to ensure sustainable and equitable access for all nations and organizations.
[Event Overview]
Speaker: Ms. Rachel Silverman Bonnifield (Senior Fellow, The Center for Global Development (CGD))

Date & Time: Monday, October 30, 2023; from 9:00 to 10:00 JST (Doors Open 8:00)
Format: In-person only
Venue: STUDIO&LOUNGE 3F Yotsuya Tower, Comore Yotsuya, 1-6-1, Yotsuya, Shinjuku-ku, Tokyo
Language: English and Japanese (simultaneous translation will be available)
Hosted by: Health and Global Policy Institute / AMR Alliance Japan
Sponsored by: National Graduate Institute for Policy Studies (GRIPS) GlobalHealth Innovation Policy Program
Participation fee: Free
Capacity: 40
*The application deadline for those who wish to attend the in-person event is 10:00 a.m. on Tuesday October 24, 2023. Application results will not be available immediately after registration. Attendees will be selected by a draw of lots. Those who have applied to join the in-person event will be notified of selection results on Thursday, October 26, 2023.

**After completing your registration, a confirmation e-mail will be sent automatically to your e-mail address. If you do not receive it, please send us an e-mail at info@hgpi.org.
---
■ Speaker Profile:
Ms. Rachel Silverman Bonnifield (Senior Fellow, The Center for Global Development (CGD))
Rachel Silverman Bonnifield is a Senior Fellow at the Center for Global Development. Her current research focuses on procurement and access models for global health products; incentives for global health innovation and delivery; neglected global health crises such as the spread of antimicrobial resistance and widespread lead poisoning of children; and financing for pandemic preparedness and response. In addition to her role with CGD, she has also consulted extensively with the World Bank, including authorship of the most recent Flagship Report on the future of primary health care. Previously, she worked with the National Democratic Institute to support democracy and governance strengthening programs in Kosovo. She holds a Master of Philosophy with distinction in public health from the University of Cambridge and a BA with distinction from Stanford University.