[Registration Closed] (Hybrid Format) Roundtable on Drastic Reform of Testing and Diagnostic Stewardship Systems as Part of Countermeasures for Antimicrobial Resistance (AMR) (October 31, 2023)
>

>

>

[Registration Closed] (Hybrid Format) Roundtable on Drastic Reform of Testing and Diagnostic Stewardship Systems as Part of Countermeasures for Antimicrobial Resistance (AMR) (October 31, 2023)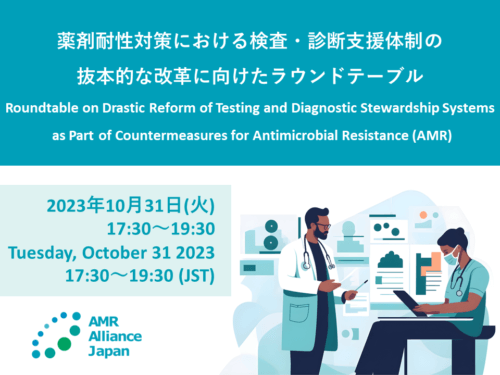 It is estimated that antimicrobial resistant (AMR) bacteria cause approximately 1.2 million global deaths each year. This number is projected to increase to 10 million global deaths by 2050 if action is not taken, which makes AMR countermeasures an urgent global issue.
Within this context, Japan has steadily advanced efforts on many levels to combat AMR based on the "National Action Plan on Antimicrobial Resistance 2016-2020" (NAP 2016-2020), which was revised in April 2023 and presented as the "National Action Plan on Antimicrobial Resistance 2023-2027" (NAP 2023-2027).
Measures to combat AMR span a broad variety of areas, including education and raising awareness, surveillance, stewardship, R&D, and international collaboration, and many initiatives are currently underway in each of these areas. In the area of microbiological testing and infectious disease diagnosis, the aforementioned NAP 2023-2027 includes "Strategy 2.4: Standardize Methods of Laboratory Testing and Strengthen Testing Functions of Antimicrobial Resistance at Clinical, Commercial and Public Health Laboratories," and there are high expectations for these measures to be strengthened in the future. It is clear that rapid diagnosis will form the basis for various measures related to testing. In addition to smear tests and drug susceptibility tests, rapid diagnosis will also be achieved through the use of genetic testing, where great progress is being made in recent years. However, efforts to promote rapid microbiological testing and infectious disease diagnosis face structural challenges that range from those encountered in clinical settings to those related to Japan's health insurance system. Due to the Coronavirus Disease 2019 (COVID-19) pandemic, which was an infectious microbe like AMR bacteria, many issues related to nucleic acid amplification testing and other forms of microbiological testing are still fresh in our minds. Issues facing microbiological testing and infectious disease diagnosis are manifold. For example, bacteriological laboratories lack human resources; precision for clinical laboratory equipment that is routinely used for testing is not standardized among hospitals and medical laboratories; and there are no incentives related to establishing rapid testing and diagnostic stewardship systems. There are also issues rooted in hospital administration, such as delays in introducing cutting-edge or automated testing equipment and the difficulty of expanding testing capacity during infectious disease outbreaks. Some have suggested that in addition to the medical service fee reimbursement system and problems in real-world clinical settings, other significant factors behind current circumstances are rooted in healthcare administration as well as regulatory issues related to laws like the Act on Clinical Laboratory Technicians, the Medical Care Act, and the Act on Securing Quality, Efficacy and Safety of Products Including Pharmaceuticals and Medical Devices (or, the Act on Pharmaceuticals and Medical Devices; the PMD Act). As for efforts to promote microbiological testing and other forms of testing, as social security expenditures continue to increase, testing expenditures must be optimized while maintaining infection control measures, but systemic and social factors have brought efforts to reinforce Japan's testing and diagnostic stewardship system to a halt.
Discussions on reinforcing testing systems and AMR countermeasures have been growing more active in the global community, and the topic of reinforcing testing and diagnostic systems was examined at the 76th World Health Assembly under the resolution of "strengthening diagnostics capacity." The importance of testing as part of AMR control was also pointed out during those discussions. Given these developments, we see there is an urgent need to establish testing and diagnostic support systems in Japan, as well.
Each G7 country is also advancing discussions on the introduction of new types of market incentive called pull incentives, which aim to encourage the development of new antimicrobials. In Japan, work on designing a project for supporting stable antimicrobial procurement began in April 2023. The goal of that initiative is to support antimicrobial development while maintaining antimicrobial stewardship. Identifying infection-causing microorganisms will be an essential step when making decisions whether or not to prescribe new antimicrobials to help maintain stewardship. To this end, in addition to identifying phenotypes using conventional testing methods such as droplet testing, culture isolation testing, and drug susceptibility testing, it will also be necessary to identify genotypes, so it will be vital to establish an environment in which new technologies and existing genetic testing methods are utilized to ensure testing and diagnostic accuracy. Given these factors, while designing incentive projects, we can conclude that we must advance parallel efforts to establish a testing and diagnostic stewardship system for antimicrobial stewardship.
Given this backdrop, in March 2023, HGPI and partnering academic societies related to infectious diseases published the results of an awareness survey on the current environment surrounding testing and diagnostics, with a focus on nucleic acid amplification testing and rapid testing. Taking our findings into consideration, in May 2023, HGPI published policy recommendations from a comprehensive perspective that looks beyond nucleic acid amplification testing in a proposal titled, "Restructuring Diagnostic Services and Achieving the Necessary Innovation to Promote AMR Control." Based on discussions held with multi-stakeholders, those recommendations call for efforts to rebuild testing and diagnostic services by establishing an environment in which innovative technologies can be put to full use, including the introduction of automated testing equipment.
To establish a rapid testing and diagnostic system as part of AMR countermeasures as described in those recommendations, this roundtable meeting will bring together domestic and international opinion leaders who will share their unique perspectives on and discuss establishing a testing system that will contribute to AMR control with a medium- to long-term outlook that surpasses revisions to the medical service fee schedule. We will then compile the results of these discussions and clarify future issues for each stakeholder to overcome and the direction for us to take moving forward.
[Event Overview]
Date & time: Tuesday, October 31, 2023; from 17:30-19:30 JST
Format: Hybrid format (Zoom webinar and in-person participation at the venue)
Languages: Japanese and English (simultaneous translation will be available)
Venue: Global Business Hub Tokyo, Grand Cube 3F, Otemachi Financial City, 1-9-2, Otemachi, Chiyoda-ku, Tokyo
Hosted by: Health and Global Policy Institute / AMR Alliance Japan
Sponsored by: National Graduate Institute for Policy Studies (GRIPS) GlobalHealth Innovation Policy Program
Participation fee: Free
Capacity: 30
*Registration will close at 12:00 JST, October 18. Participants will be selected by lottery and will be informed of the result at 15:00 JST, October 20. We appreciate your understanding.
**After your registration is complete, a confirmation e-mail will be sent automatically to your e-mail address. If you do not receive it, please send us an e-mail at info@hgpi.org.
***For those who have registered for in-person participation but are unable to attend due to the lottery results, we will handle online registration on our end and provide instructions on the ZOOM webinar link through the system.
[Program] (tentative, titles omitted; in no particular order)
17:30-17:35
Opening Remarks and Event Overview
Ryoji Noritake (CEO, Board Member, Health and Global Policy Institute)
17:35-17:55
Keynote Lecture: The New National Action Plan and Strengthening Diagnostics Capacity
Nobuaki Matsunaga (Chief, Clinical Epidemiology Division, AMR Clinical Reference Center, National Center for Global Health and Medicine)
18:00-18:10
Research Report 1: Survey on the Future for Laboratory Medical Technologists
Mitsuaki Nagasawa (Vice President, Japanese Association of Medical Technologists / Professor, International University of Health and Welfare Graduate school)
18:10-18:20
Research Report 2: Awareness Survey on Reforming Existing Systems to Achieve Sustainable Antimicrobial Resistance(AMR) Countermeasures: Looking Beyond the COVID-19 Pandemic
Shotaro Tsukamoto (Senior Associate, Health and Global Policy Institute )
18:25-19:25
Roundtable Discussion
"Issues and Future Prospects for Microbiological Testing and Diagnostic Support to Advance AMR Countermeasures"
Roundtable discussion members (titles omitted; in no particular order)

Kazuyuki Akai (Director, Business Development, IDS Business Unit, Nippon Becton Dickinson Company Ltd.)
Nobuaki Matsunaga (Chief, Clinical Epidemiology Division, AMR Clinical Reference Center, National Center for Global Health and Medicine)
Hiromichi Kuwabara (Director, Jinho Law Office / Visiting Professor, Faculty of Medicine, Toho University)
Motoyuki Sugai (Director, Antimicrobial Resistance Research Center (WHO Collaborating Centre for AMR Surveillance and Research), National Institute of Infectious Diseases)
Manabu Sumi (Cabinet Councilor, Cabinet Agency for Infectious Disease Crises Management (CAICM), Cabinet Secretariat)
Katsunori Yanagihara (Director, Japanese Society of Laboratory Medicine / Professor, Department of Laboratory Medicine, Graduate School of Biomedical Sciences, Nagasaki University / Director, Department of Laboratory Medicine, Nagasaki University Hospital)

19:25-19:30
Closing Remarks
Akiko Honda (Member, House of Councilors)