[Event Report] WHO Regional Committee for the Western Pacific Related Event: "AMR: A Global Health Crisis" (September 25, 2021)
>

>

>

[Event Report] WHO Regional Committee for the Western Pacific Related Event: "AMR: A Global Health Crisis" (September 25, 2021)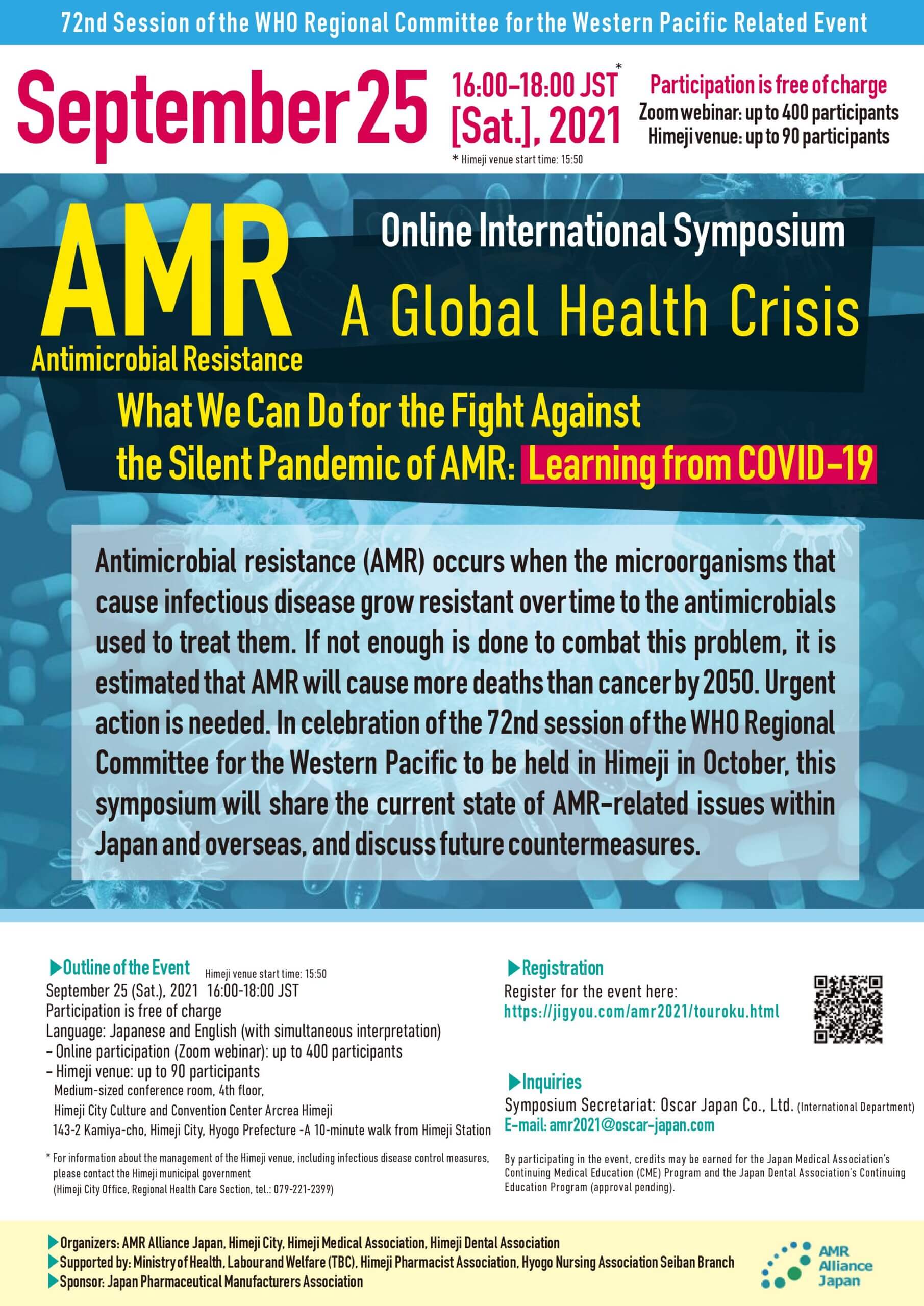 *A video of the Symposium has been published on April 13, 2022.
*A report on the Symposium has been published on April 7, 2022.
AMR Alliance Japan (Secretariat: Health and Global Policy Institute) hosted a WHO Regional Committee for the Western Pacific Related Event: "AMR: A Global Health Crisis"
Antimicrobial resistance (AMR) occurs when the microorganisms that cause infectious disease grow resistant over time to the antimicrobials used to treat them. If not enough is done to combat this problem, it is estimated that AMR will cause more deaths than cancer by 2050. Urgent action is needed.
In celebration of the 72nd session of the WHO Regional Committee for the Western Pacific to be held in Himeji in October, this symposium shared the current state of AMR-related issues within Japan and overseas, and discussed future countermeasures.
You can watch the day's proceedings below.
[Overview]
■Date and Time: Saturday, September 25, 2021, from 16:00-18:00 JST
■Language: Japanese and English (Simultaneous Interpretation will be available)
■Venue:
– Online Participation (Zoom Webinar)
– Himeji Venue
■Participation fee: Free
■Organizers: AMR Alliance Japan, Himeji City, Himeji Medical Association, Himeji Dental Association
■Supported by: Ministry of Health, Labour and Welfare (TBD), Himeji Pharmacist Association, Hyogo Nursing Association Seiban Branch
■Sponsor: Japan Pharmaceutical Manufacturers Association
[Program] (Titles Omitted)
For more information, please refer to the PDF at the bottom of this page.
15:50-15:55 Greetings (For Himeji Venue Only)
Etsuji Ishibashi (Chairman, Himeji Medical Association)

16:00-16:05 Opening Remarks and Introduction
Ryoji Noritake (CEO, Boad Member, Health and Global Policy Institute)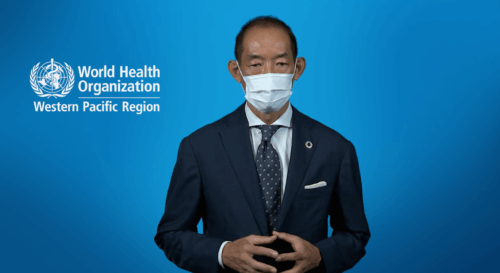 16:05-16:25 Message
Takeshi Kasai (Regional Director for the Western Pacific, World Health Organization (WHO) )
Yasuhisa Shiozaki (Member of the House of Representatives; Former Minister of Health, Labour and Welfare; Member, Global Leaders Group on Antimicrobial Resistance; Chairman, Special Mission Committee on Data Health Advancement, Liberal Democratic Party of Japan(LDP))
Shigeru Omi (President, Japan Community Health care Organization (JCHO); Chairperson, Committee for the Promotion of Pandemic Influenza and New Infectious Disease Preparedness and Response)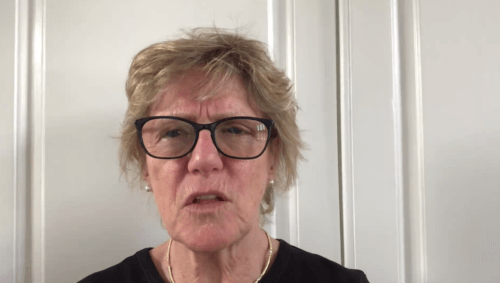 16:25-16:40 Lecture 1 "AMR as a Global Health Crisis: A message from the United Kingdom"
Dame Sally Davies (UK Special Envoy on Antimicrobial Resistance)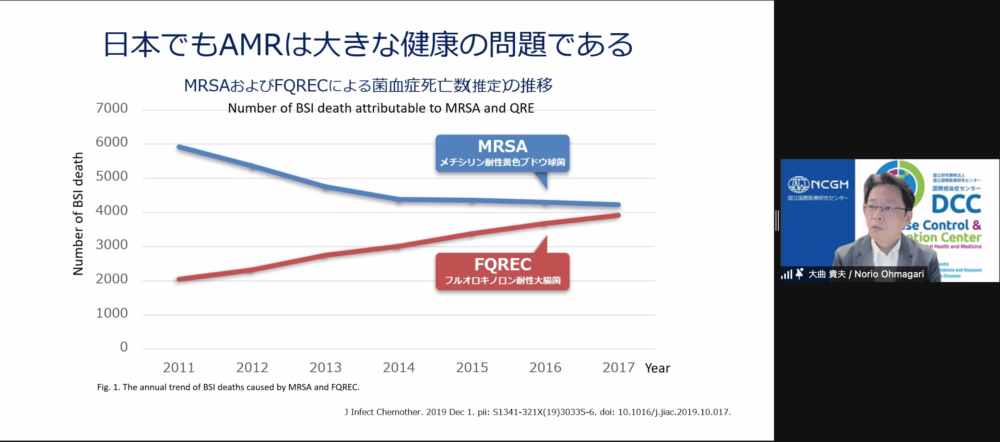 16:40-16:55 Lecture 2 "AMR in Japan and Expectations toward Future"
Norio Ohmagari (Disease Control and Prevention Center, National Center for Global Health and Medicine (NCGM); Director, AMR Clinical Reference Center, NCGM)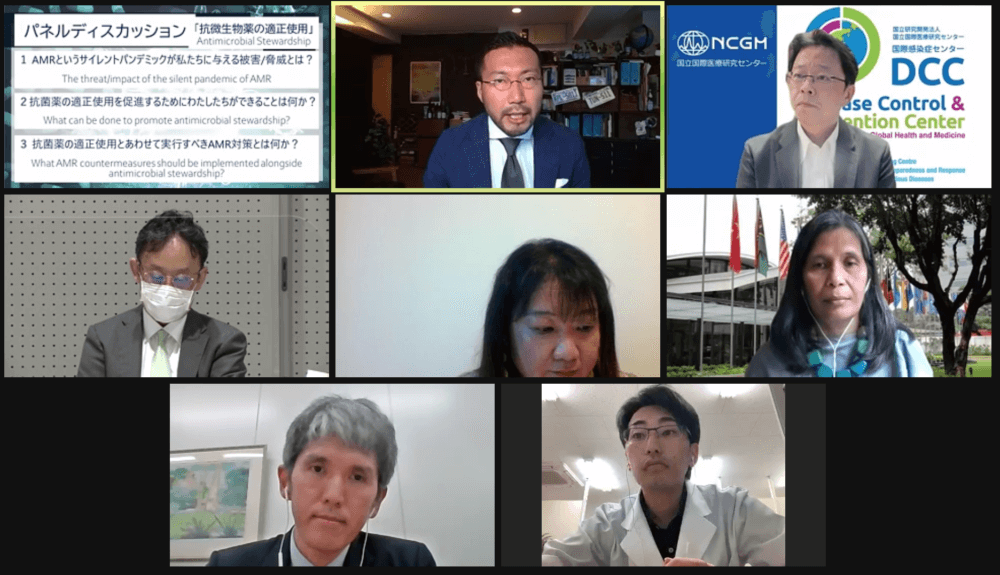 16:55-17:55 Panel Discussion: Antimicrobial Stewardship
Panelists:
Socorro Escalante (Regional Coordinator for the programme on Essential Medicines and Health Technologies (EMT) and antimicrobial resistance (AMR), Western Pacific Regional Office, WHO)
Norio Ohmagari (Same as above)
Testuji Kawamura (Director, NHO Himeji Medical Center)
Kyoko Ama (Representative, Children and Healthcare Project; Fellow, Health and Global Policy Institute)
Takeshi Enami (Director, Tuberculosis and Infectious Diseases Control Division, Health Service Bureau, Ministry of Health, Labour and Welfare)
Hajime Inoue (Assistant Minister for Global Health and Welfare, Ministry of Health, Labour and Welfare)
Tetsuya Ito (Chair, International Affairs Committee, Japan Pharmaceutical Manufacturers Association)
Moderator:
Ryoji Noritake (Same as above)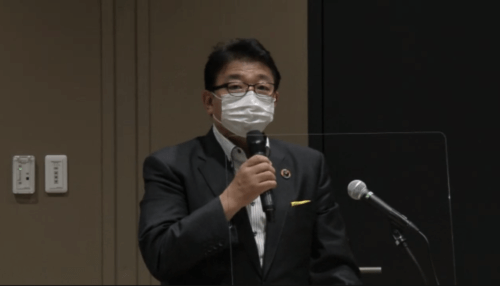 17:55 -18:00 Closing Remarks
Hideyasu Kiyomoto (Mayor of Himeji City)