[Recommendations] AMR Alliance Japan Delivered Policy Recommendations on AMR to Minister of Health, Labour and Welfare Katsunobu Kato (October 3, 2019)
>

>

>

[Recommendations] AMR Alliance Japan Delivered Policy Recommendations on AMR to Minister of Health, Labour and Welfare Katsunobu Kato (October 3, 2019)
date : 12/10/2019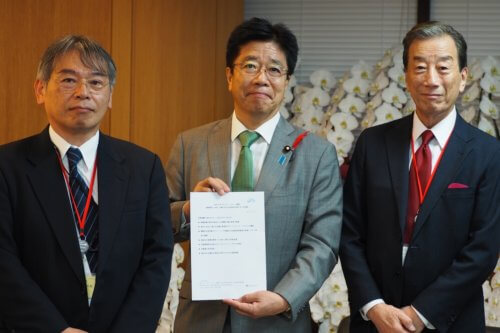 AMR Alliance Japan (Secretariat: Health and Global Policy Institute (HGPI)) delivered its policy recommendations, "AMR Alliance Japan Policy Recommendations: The Japanese Government's Role in Promoting AMR Countermeasures" to Mr. Katsunobu Kato, Minister of Health, Labour and Welfare.
The meeting with Minister Kato was attended by Dr. Masaki Yoshida, President of the Japanese Society for Infection Prevention and Control and Professor of Infection Diseases and Infection Control at The Jikei University Hospital, as well as Dr. Kiyoshi Kurokawa, Chairman of HGPI, and Mr. Joji Sugawara, Senior Associate at HGPI.
AMR Alliance Japan's Recommendations were announced on July 11, 2019, and are available to download at the bottom of this page.